Can You Use Spray Foam to Stop Basement and Foundation Leaks?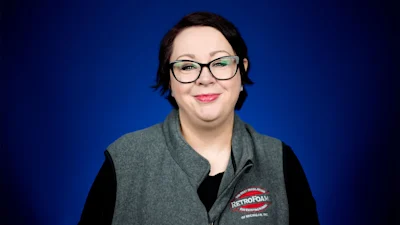 Spring showers bring May flowers – and in some cases, a basement turned water feature.
Areas across the U.S., specifically the east coast and Midwest, has seen an increase in rainfall totals. These totals lead to a lot of flooding, for example, Michigan is seeing record rainfall totals leading to lakes and rivers hitting record high water levels, as well as water pooling in people's yards.
All of this water needs to go somewhere and as it is absorbed into the ground, for many they are seeing water leaking into the basement.
RetroFoam of Michigan gets a lot of calls this time of year from homeowners hoping to use closed cell spray foam to do some basement or foundation leak repair. Unfortunately, despite what they have been told, that's not at all how closed cell spray foam should be used as it can lead to much bigger problems.
Let's get into the meat and potatoes of why spray foam isn't the fix you're looking for and how it can do more harm than good.
Can Spray Foam Fix Basement Water Leaks and Foundation Leaks?
Here's the thing – there are a lot of people out there who push closed cell spray foam as a way to keep water out of your house.
You know what? Closed cell spray foam can keep that water out, but that's not a fix because it isn't going to magically disappear or dissipate.
Closed cell is water impermeable, which makes it great for a lot of projects, just not this one and here's why.
The water is coming into your basement and through the foundation through cracks. Now closed cell will seal the cracks, but the water is going to build and pool behind the foam and eventually find another route in.
The thing is, if you don't address the problems that lead to the leaks and you add foam, the water will start pooling in other areas as well and now the foam is hiding it.
Wood rot is just one of the problems you could face if that water is allowed to pool unchecked. Another problem is affecting the grade around your foundation. If that water is pooling around the edges and corners of your foundation, then the grade is shifting, settling, and cracking the foundation itself because it is no longer on solid ground.
With all of this being said, spray foam can't fix basement and foundation leaks.
Basement and Foundation Leak Repair
If you have leaks in your basement or foundation, spray foam absolutely isn't the answer.
There are measures that need to be taken that can vary greatly depending on your home's needs.
From spray sealants to total encapsulation, there are ways to fix this problem. The best bet is to call in a contractor who specializes in fixing these leaks for good so you aren't left with the constant worry of another flood in the basement.
Once the leaks have been repaired, then you can think about adding spray foam insulation to your basement and rim joist for what it's really designed to do -- keep outside air out.
About Amanda Ringler
Amanda previously has worked as a breaking news and crime reporter, TV news producer, and editor in Flint and Detroit. Throughout her career as a journalist, she has won several awards from The Society of Professional Journalists - Detroit Chapter and the Michigan Press Association. As part of the RetroFoam of Michigan family, Amanda uses her experience as a journalist to write content that will help educate homeowners on the benefits of foam insulation. When Amanda isn't writing, she's spending time with her husband and rescued huskies. She also loves knitting, making art, cooking, and hosting dinner and a movie night for friends and family.