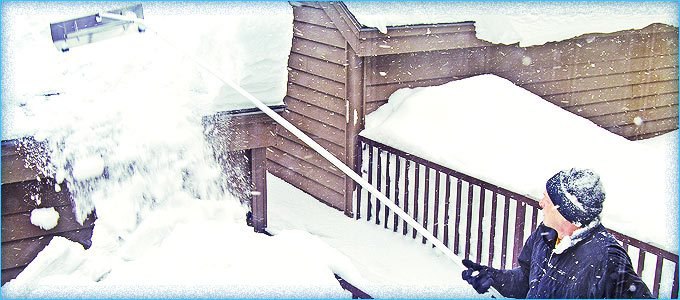 Subscribe
How a Snow Rake Can Save Your Roof
roof | snow rake | Smart Homeowner Tips | winter
Every six inches of snowfall.
If you only remember one thing this winter, remember that statistic.
Why? It's how often you should clear your roof off to prevent stress, leaks, and cave-ins.
Stress occurs when a heavy amount of snow collects on your roof. An especially risky roof is flat or slightly pitched, which prevents most snow from sliding down off it, according to Popular Mechanics.
And stress leads to leaks. In a location that is exposed to the wind, drifts can develop, collecting heavy snow small section of the roof. Cave-ins are the end result.
"I recommend if you remove the snow off any section of roof that you get it all from the peak down to the eave. Too often I see where snow was taken off 6 or 10 feet up the roof and then an ice line forms where there is still snow on the roof and leaks start there," said Art Tolsma, owner of TNT Roofing Inc., a Saugatuck-based company that services West Michigan homeowners. "I have seen where large sections of drywall have come down due to getting saturated from water coming in from an ice buildup. This is not normal and something on the roof would have to change to have this happen."
So what's the best way to clear off your roof? A simple snow rake and extension.
With these low-cost investments, you can save hundreds, if not thousands on roof repairs caused by snow build-up.
"You want to start getting it off your roof," said Doug Hollingshead, manager of the lawn and garden department of the Ace Hardware in Midland. "We sell quite a few (snow rakes) every year."
The two basic, most popular models are: a 16-ft aluminum tube handle snow rake with a 24" poly blade and a 16-ft aluminum tube handle snow rake with a 24" aluminum blade. Both cost around $45 for a rake and $15 for an extension.
Hollingshead said a higher-end option some Ace Hardware locations sell is the Avalanche! Original 500 snow rake system, which is a 17″ x 12′ plastic sheet on a roll that cuts chunks of snow off your roof and has it slide down the sheet. That product runs between $130 and $140.
Regardless of the rake, consistency is important.
"Roof-raking is generally best as an ongoing, winter-long task that you, the property owner, can perform as a way of keeping the snow off your roof," Minnesota-based Ice Dam Guys, national experts on snow removal from roofs, advise on their Web site.
So go to your local hardware store. Buy a snow rake. And rake, baby, rake.
RELATED: How to Prevent Ice Dams