Learn How RetroFoam of Michigan Crew Experience, Work Ethic Calmed Homeowner's Fears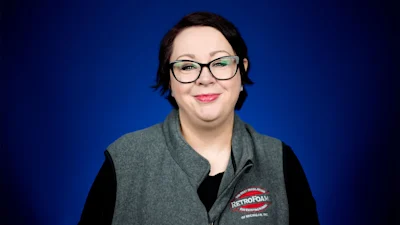 Having a group of strangers to your home can be nerve-wracking enough but having that same group of strangers drilling and cutting into your home can send your anxiety through the roof.
You're watching these injection foam insulation installers taking off your siding and drilling into the exterior walls of your home. Then they move to the brick portion and that really turns up the heat for you.
That's exactly what happened to Bernie McMahon when he had his exterior walls insulated with injection foam in August. Bernie said he was faced with his greatest fears as he watched the RetroFoam of Michigan crew start prepping by removing siding, drilling into the mortar, and injecting the foam.
"Let me tell you that all of your fears about doing this project will come true," Bernie said. "Watching the guys drill holes in the house is nerve-wracking. The worries about taking siding off and drilling in the brick come to life. But after watching the crew work like a precision clock was great to see."
RetroFoam of Michigan has been insulating homes with injection foam for more than 17 years. Our crews are like a well-oiled machine once they get to a job site – everyone has a job to do and they don't stop moving until that job is done. The crews also pride themselves in making sure the home looks just like it did before they started working.
The way the team worked together is really what put him at ease, he said.
The way everyone was working, it didn't look haphazard," Bernie said. "Everyone had a job to do, and I was put at ease because of it."
Bernie is a contractor and owns Galaxy Fence Services, he said he knows it can be hard to find good workers which led to his initial stress and anxiety as the crew began working. He watched as one crew member drilled holes into his sheathing and dust flying everywhere, but then another crew member was right behind them cleaning up that mess.
Next, he watched as the foam was injected, as the shaving cream looking material made another mess, there was yet another crew member there to quickly clean it up.
The last bit of anxiety came as the crew started to work on the brick portion of his home. This can be a scary sight when your anxiety is turned all the way up because holes are drilled into the mortar at the top, middle, and bottom of each cavity to ensure it gets completely filled with foam.
"Now let's walk to the front of the house that looks like somebody shot it up with a machine gun. Anxiety level 100 thanking the Lord that my wife was at work," Bernie said. "(After the foam has been injected) Now another guy fills the holes in the mortar. I knew they would be dark, but I was hoping that they would dry before my wife gets home so she doesn't worry."
Bernie said once the mortar dried, he could barely tell where those holes were drilled.
Before the crew leaves a job site, the foreman will do a walkthrough with the homeowner to make sure everything looks good and that they are happy with the final product. Bernie said this, along with the follow-up he received really put his mind at ease.
"From a business owner standpoint, I appreciate all of the follow-ups the crew did," Bernie said. "I like those things – the checklist at the beginning and at the end, and then the follow-up phone call at the end. The professionalism showed."
Working with RetroFoam of Michigan
If you have anxieties about having work done at your home, Bernie said he gets it because he was there.
"I'm a contractor and I know repairs and improvements can be stressful," Bernie said. "I also know how difficult it is to get good help. This is why I had stress, but I'm letting you know if you have any doubts about doing a project for these reasons, I'm letting you know that they (RetroFoam of Michigan) were terrific."
Related Articles
Installing RetroFoam into Exterior Walls with Different Siding Types
Lifetime Warranty Helps Customer with Insulation Problem
How to Find and Hire the Best Residential Insulation Contractor for Your Project
About Amanda Ringler
Amanda previously has worked as a breaking news and crime reporter, TV news producer, and editor in Flint and Detroit. Throughout her career as a journalist, she has won several awards from The Society of Professional Journalists - Detroit Chapter and the Michigan Press Association. As part of the RetroFoam of Michigan family, Amanda uses her experience as a journalist to write content that will help educate homeowners on the benefits of foam insulation. When Amanda isn't writing, she's spending time with her husband and rescued huskies. She also loves knitting, making art, cooking, and hosting dinner and a movie night for friends and family.