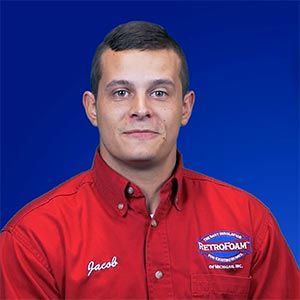 We've heard stories from some of the homeowners we've worked with about contractors not showing up on time, or at all.
In one instance a homeowner told us they had several other estimates scheduled and we were the only company that actually showed up.
As a customer concierge here at RetroFoam of Michigan, I've heard this kind of thing a lot. I've also worked with homeowners who have been burned in the past, so they expect the worst and think this is the norm for all insulation contractors.
Unfortunately, these unprofessional contractors give us all a bad name, so when the worst happens and a good contractor is running behind, it's perfectly normal for a homeowner to assume we're all the same.
As a foam insulation company that provides service throughout the lower peninsula, it doesn't happen often, but we have had times where it just wasn't possible to be onsite during our arrival window. When this kind of thing happens any good contractor, including us, will call to give an update to the homeowner and keep them in the loop.
Let's take a look at these instances that are out of the foreman's control that could have a homeowner waiting a little longer than they originally planned.
4 Reasons Why an Insulation Installation Crew Might Be Late
As part of our company culture, we strive to give every single homeowner we work with an unheard-of contractor experience and to treat everyone exactly how we would want to be treated.
But there are some things that are out of our control that might have us arriving later than we would have liked.
Here are some of the things that will have a contractor showing up late to the installation.
Unexpected vehicle trouble. A good contractor will have their fleet of trucks ready to go at all times, but that doesn't mean something can't still happen. This is especially true of flat tires because that is just something you can't plan for that takes up a lot of time on the road.


Poor road conditions. We live in Michigan, so you know the weather can really impact drive times, especially in winter. When you combine poor road conditions with heavy traffic areas, that can slow drivers down even more. Safety should be the priority of any good contractor, so their crews should drive for the conditions.


Slow and heavy traffic. A good contractor will plan accordingly for rush hour traffic, but there are things that go along with it that you can't plan for. If there is an accident an already congested freeway can quickly turn into a parking lot.


Unforeseen complications at a previous job site. To err is human, to forgive is divine. Sometimes an insulation contractor gets to the install only to find any number of issues that turns a 4-hour job into a 6-hour job. It's not ideal, but a good contractor jumps in and gets that work done as quickly as possible while not sacrificing the quality of the work. It might put them behind, but that's the kind of integrity you want from someone who is working on your home.
A Good Contractor Will Have Your Back
When scheduling your installation, your contractor gives you an arrival time based on your location, as well as the amount of work that needs to be done.
These factors can determine whether you're the first or the last stop of the day.
In the case of our installation crews, they are traveling all across the lower peninsula. Since we have such a large service area, it's easy to hit snags like heavy traffic, especially when orange barrel season hits.
We try to take into account any of the factors listed above, that way we can immediately contact the homeowner and let them know what is happening and when the crew will arrive. This is something we never want to do, but sometimes life happens.
When this does happen, a good contractor will always make sure the homeowner is well taken care of and in the loop every step of the way.
If you want to learn more about RetroFoam of Michigan and our core values, check out the About Us section of our website.
Related Articles
Insulation Contractor Vetting Checklist: What You Need to Look for Before Signing the Contract
How to Find and Hire the Best Residential Insulation Contractor for Your Project
What is an Insulation Contractor?
About Jacob Stacy
Jacob has been with the company for more than 4 years and has worked as an estimator, installer, and in the office. This experience lends itself to his current position as a customer support concierge when answering customers questions. With 10 years of building and manual labor experience, Jacob has the unique ability to answer questions in detail when scheduling appointments. He also has the capabilities to jump onto a truck and help with installation at a moments notice when needed. In his free time, Jacob enjoys spending time with his twin boys and teaching them about the world around them.