Team RetroFoam of Michigan Bikes Across Michigan to Grant Wishes


RetroFoam of Michigan staff, family members, and the community all came together to make a difference in the lives of Michigan children with life-threatening conditions.
Back in January RetroFoam formed a team of riders to complete in Make-A-Wish Michigan's main fundraiser of the year, the Wish-A-Mile Bicycle Tour, covering 300 miles over 3 days of riding.
Starting in Traverse City riders cycled up and down massive hills to Big Rapids, through the rolling countryside to Dewitt, then to Brooklyn ending on the racetrack at Michigan International Speedway.
Injuries took a toll on the team, but they ended with three riding the 300 mile tour, one riding the one-day 50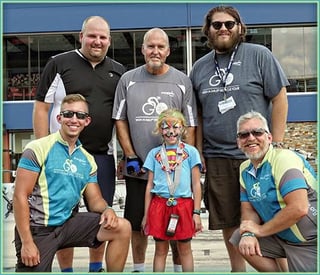 mile ride, and one volunteering over the three days as a SAG driver to help cyclists along the route.
"This ride was so inspiring!" said Mark Massey, owner of RetroFoam of Michigan. "I can't wait until we ride next year."
Riders raise funds to participate in the event, this year surpassing the $2.2 million goal. Proceeds benefit the wish-granting work of Make-A-Wish Michigan.
Participants got to meet Wish Kids and their families throughout the event, learning about their wish and getting a glimpse of how a wish can give hope to a child and their family.
RetroFoam of Michigan plans to increase their involvement by encouraging employees and family members to participate in the 300 mile and 50 mile rides next year, or volunteer at the event.
"We couldn't do it without the financial support and encouragement of friends, family, and local businesses," said Mark. "A special thanks to local businesses Community State Bank and Andrea's Place for selling stars for us, as well as employees of RetroFoam of Michigan, Icynene, and Indiana Spray Foam for sponsoring a mile along the route."
Learn more about RetroFoam's partnership with Make-A-Wish Michigan.