Inside Look | News | injection foam insulation | retrofoam of michigan | spray foam insulation | wounded veterans
Two men are working on fixing up a Flint home to give wounded veterans a place to stay, and RetroFoam of Michigan was able to help make the house more energy efficient.
Inside Look | company garden | garden | health
If you've ever stopped in to the RetroFoam office you've probably been offered a fresh piece of fruit. Soon we'll be able to add our own snacks that will be grown in our own backyard! The new project that we've been working on is our very own garden, located behind our shop in Montrose.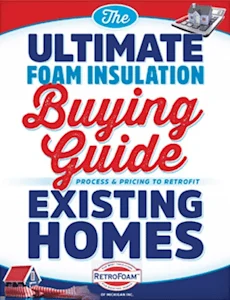 Have questions about insulating your existing home with foam? Our free educational guide compares home insulation types while answering the most frequently asked questions, including the process and pricing of foam insulation.
Behind the scenes | Inside Look | Make-A-Wish Michigan | News | Wish | company bike
You may have seen the RetroFoam of Michigan trucks driving around the lower peninsula of Michigan on their way to or from insulating a home but if you are in the Montrose area you may see us getting around town in a little different way. The new three-wheeled bike is just the latest attempt to make the RetroFoam family even healthier.