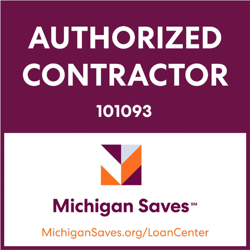 Michigan Saves, a Lansing-based nonprofit, provides special, low-interest financing for Michigan businesses and homeowners to complete energy efficiency improvements they've always wanted using a Michigan Saves contractor.
"Michigan Saves was carefully designed to make it easy for all Michigan homeowners to make their homes more comfortable and energy-efficient," Jeff Williams, program director of Michigan Saves, said in a press release announcing the program. "Michigan homeowners who take advantage of the Home Loan Program can save up to 20 percent on their monthly energy bill. Plain and simple, Michigan Saves can help homeowners save money."
Known as the Home Energy Loan Program, it offers a fixed annual percentage rate (APR) of no more than 7%. Loan amounts available range from $1,000 to $30,000. To start the loan process visit Michigan Saves.
Loan terms are one year for every $1,000 up to $4,999. For anything higher, homeowners have a 10-year term option.
The home must be a single-family, owner-occupied home with no more than four units, according to Consumers Credit Union.
Some of the projects available include windows, furnaces, air conditioners, appliances, siding, roofs, and insulation.
"We make it easy, with no home appraisal or equity required," Michigan Saves writes. "Homeowners can choose from a list of qualified improvements."
To apply for the Home Energy Loan Program, homeowners must visit the Michigan Saves Web site and locate an authorized Michigan Saves contractor. RetroFoam of Michigan is an authorized Michigan Saves Insulation contractor.
"Becoming a Michigan Saves authorized contractor allows us to offer our residential and commercial customers another form of low-interest financing for their foam insulation project," said Mark Massey, President of RetroFoam of Michigan.
The Michigan Saves contractor will help you complete the loan and receive a quick decision. After loan approval, the contractor completes the work and is paid by your lender.
So stop deferring your dream project.
If insulation is what you need, contact RetroFoam of Michigan today to start the process to a more energy-efficient home without the financial nightmare.