air seal | energy efficiency | energy efficient home | energy star | foam insulation benefits | home performance
Home performance is something you should take seriously, especially if you want an energy efficient home.
Consumers Energy | energy savings | energy star | home performance | injection foam insulation | spray foam insulation
For the past six years, RetroFoam of Michigan has been recognized by Consumers Energy for the work we do to make homes more comfortable, but on Thursday we hit an all new milestone.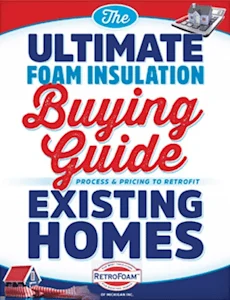 Have questions about insulating your existing home with foam? Our free educational guide compares home insulation types while answering the most frequently asked questions, including the process and pricing of foam insulation.
home performance | michigan insulation code | new build home insulation
When you're talking with your builder about insulation code requirements they are likely discussing options with high R-Value, but R-Value doesn't tell you the whole story and isn't the only path to passing.
Smart Homeowner Tips | air seal | home insulation | home performance | insulation
In the home improvement world, the common advice is to upgrade your house one room at a time.