Earth Day | Foam Insulation | Going Green | Smart Homeowner Tips | home improvement
April is a month that boasts two days to do something to help the environment – Arbor Day and Earth Day.
Foam Insulation | drafts | energy savings | insulation
You're sitting in your home relaxing, catching up on the novel you're dying to read, when an all-too-common feeling overtakes you – the draft.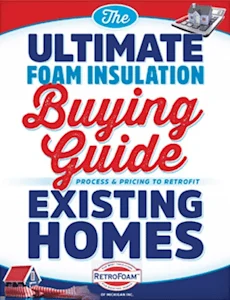 Have questions about insulating your existing home with foam? Our free educational guide compares home insulation types while answering the most frequently asked questions, including the process and pricing of foam insulation.
Foam Insulation | energy efficiency | existing home insulation | insulation tax credits
*Notice: There is a lot of confusion on this topic. As of the date of publication, it appeared the tax credit would be available to homeowners for 2018, whereas Congress only passed part of the bill. This is subject to change at any time, as this Bill is currently before Congress and could include home insulation. Please check with your tax preparer. Foam insulation already saves you money on your monthly energy bills and in some cases with rebates, but now you might even be eligible for a federal tax credit for insulation.
Foam Insulation | Smart Homeowner Tips | energy star appliances | flooring | new home | programmable thermostat
You've finally done it. You found the home of your dreams and made the leap into becoming a homeowner.
Foam Insulation | cold house | insulation | winter
The colder winter weather is working its way into your area and making your home unbearably cold.
Energy Saving Tips | Foam Insulation | Smart Homeowner Tips | michigan winter | winter energy savings
Some people love it, while others shiver at the thought, but either way it is inevitable – snow is coming to Michigan.
Foam Insulation | High gas bill | insulation | michigan winter | spray foam insulation
The cold winter weather is on its way and for some homeowners that also means high gas bills.
FAQ | Featured | Foam Insulation | insulation | remove old insulation | retrofit
The saying goes "out with the old and in with the new" and it's true when installing foam insulation in your home.
Consumers Energy | DTE Energy | Energy bill savings | Foam Insulation | high energy bills | high summer electric bills
Like most of us, you are probably wondering why your electric bills are so much higher in the summer.