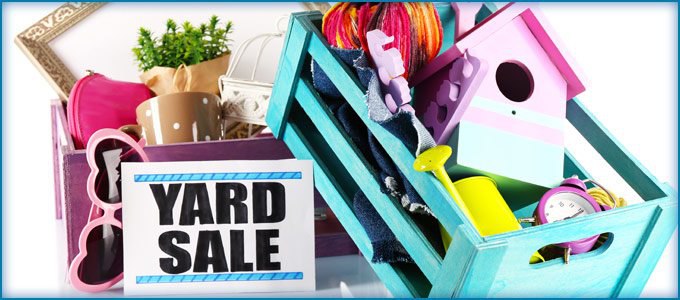 Subscribe
June Home Checklist
June | home checklist | home maintenance | home repair | News | Smart Homeowner Tips
The school year is just about over, which means a whole new season is upon us. Children will be everywhere, but that doesn't mean your life will be miserable. Cheer up. There's a solution: put your kids or grandkids to work! We see you smiling over there. Below are a few suggestions, free of charge, just like your help.
Find a spot for the school stuff
If the notebook or backpack or pen or calculator is in rough shape and not being used, consider dumping it. You don't want a pile of unclaimed school supplies on your living room floor. It won't do anything for the ambiance of your summer parties. Anything the kids or grandchildren need for next year should be stored in a labeled tote - downstairs.
Have a yard sale
While you're downstairs, look around. You probably have a few things that other people would actually use. The ping pong table covered in National Geographic magazines. The cargo shorts from your heavier days. Yes, even those Beanie Babies. So share the wealth. Let the kids add the price tags to your stuff and provide the manpower for the event. Whatever you do, don't sell your old Prince albums.
Paint your home's exterior
As you sit in the garage, watching all the money flowing in from your garage sale, let your gaze momentarily drift to the shelves. Yeah, you see that old paint can with your name written all over it. Don't look away. It's time. Grab the can, a brush, a and the ladder. Touch up the wood trim on your home and shed. The winter weather hasn't been friendly to those structures. Give them the cosmetic upgrade they desperately need.
Repair outdoor fences
After dropping the paint off in the garage, don't head inside yet. Why? Have you seen your fences? You don't want Sparky to escape again, do you? Skip the search party and perform a little preventative maintenance. Grab the tool box and walk out back to assess the damage. "All good fences need periodic maintenance to keep them functioning properly and looking their best," the Home Depot writes. "Begin by removing any parts that get in the way of the repair. You can either remove the fencing with a pry bar or cut out the damaged section with a handsaw. When repairing a post, remove the fencing and rails connected to it. Once the repair is complete, use new nails when replacing fencing and rails."
Plan out a safe summer
Now you've earned some R&R on your recliner. One last task. Plan out some fun! Pure Michigan road trips. But before you take off for a deserving vacation first take a few precautions to ensure your home is safe from intruders while you are away. Simple things like setting lights on a timer will trick people into thinking you are home, and refraining from posting all those vacation pictures on social media won't openly invite the world to your empty house. Read more about these simple home security tips.
What's on your to-do list this June?