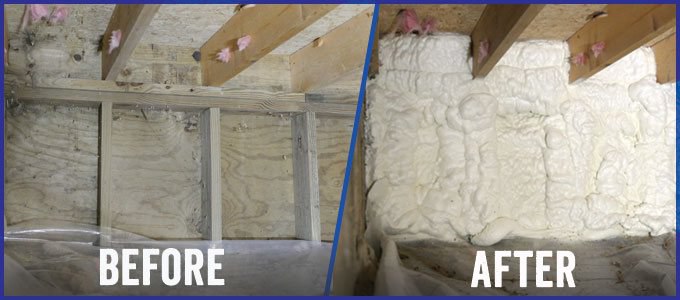 Subscribe
Insulating A Crawl Space With Spray Foam
air seal | energy savings | cold floors | Crawl space | crawl space insulation | insulation | Smart Homeowner Tips
It's a great idea to insulate your crawl space with spray foam, it's going to bring many benefits like eliminating a lot of the drafts that can make your floor chilly and drive your energy bill up. Insulating the crawl space with foam completes the air seal which is the outermost layer of your home that stops heat flow. You want to make sure that you make the envelope right for your home when insulating a crawl space with spray foam. This is where a lot of heat can be lost and if it's cold that means your floor is cold too.
Insulating the Crawl Space Walls
When to spray foam insulation crawl space walls, you may be asking?
Many Michigan homes have ductwork running through the crawl space. If this is the case with your home, you will want to insulate the crawl space walls with spray foam. Doing this will air seal the perimeter of your crawl space and allow the radiant heat from the ducts to rise up and heat the floors when the furnace is running.
Insulating the Crawl Space Ceiling
If you don't have any heat source in your crawl space it's in your best interest to spray foam the ceiling of the crawl space. The heat from your home won't be getting wasted in the crawl space and that means your floors won't be getting as cold.
The crawl space is what locks the air seal into place around the base of your home. Making the correct choice of whether or not to spray the ceilings or the wall comes down to a very simple truth. If the heating is above the floor spray the ceiling of the space, if the heating is below the floor spray the walls. Both choices are going to reduce the air leak but the right choice is going to make sure your home is reaching maximum comfortability.