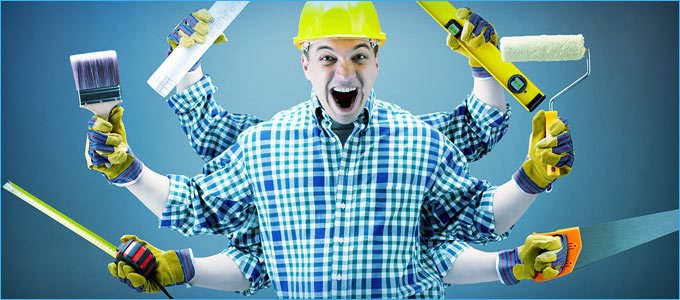 Subscribe
3 Home Improvements to Tackle this Winter
home improvement | Smart Homeowner Tips
When the sun is shining, you're sipping coffee outside on your porch, reading the latest issue of Home and Garden magazine, home improvement ideas seem to flood your mind.
But when winter hits and the endless cloudy days arrive, you're more likely to binge watch TV shows on Netflix than expend mental energy on updating your home.
That's unfortunate.
Winter is the perfect time to make simple, yet transformative improvements to your humble abode.
To help you, motivate you, get you off your recliner, we did the hard work: research. So scan these ideas and get to work!
1. Replace your outdated trim
While people are busy trying to trim weight in January, their old, beat-up trim sits there neglected, calling out for the same urgent attention.
It doesn't matter if your dog or cat or child or spouse caused the damage. Stop making excuses and fix it.
With the family inside more, this is a minimally disruptive home improvement, said Dave Sternberg, who was a contractor for nearly 40 years with Holland, Mich.-based Quality Builders.
He said it's important if you start a trim job to make it cohesive throughout the house.
"I get that sometimes budgets are tight, but sometimes some of the old would be left, like replacing trim in the kitchen and dining, but not in the living room, which is open to the other rooms," Sternberg said. "It can be done later, but more efficiently and looks better if all done at once."
2. Update your insulation
Is your house feeling cold? Drafty? Downright miserable?
Sounds like a case of "my-insulation-is-from-the-90s-but-backstreet-is-back-so-I'm-good-right?"
Sorry, you're not good.
For our second winter improvement idea, enter the insulation of choice in 2016: foam insulation.
Don't live in a brand new home? Then your insulation may very likely need an update. Some homes have insulation that would fail by today's standards, but other older homes don't even have insulation to begin with.
"There is no better time like today to start savings on your energy bills," said Mark Massey, owner of RetroFoam of Michigan. "Once you become aware and conscious of your need for insulation, every day that it is not done is a day of lost savings and comfort."
As temperatures cool outside, people finally notice the impact of poor insulation: drafts, cold walls and increased energy cost. That's when they call RetroFoam of Michigan.
"Not only are folks more comfortable in home, but also see up to 50% savings on their energy bills by sealing their basement/crawl space, walls, and attic with foam insulation," Massey said.
3. Replace still working, but less efficient furnaces
When Sternberg was making other home improvements, such as the previously mentioned trim replacement, he would occasionally notice outdated furnaces within the home.
He never hesitated recommending the homeowner upgrade to an energy-efficient version. However, people struggled with the fact that the furnace was operating, not broken.
"It's hard to replace something that "still works" it seems," Sternberg said.
Older furnaces have efficiencies between 56 - 70%, but modern furnaces have efficiencies as much as 98.5%, according to the U.S. Department of Energy.
Quite an upgrade.
"Energy efficiency upgrades and a new high-efficiency heating system can often cut your fuel bills and your furnace's pollution output in half," the U.S. Department of Energy states.
So go ahead and give yourself permission to actually think about home improvements this year. Then, while you hire a qualified contractor to the do work right, get back to your shows.