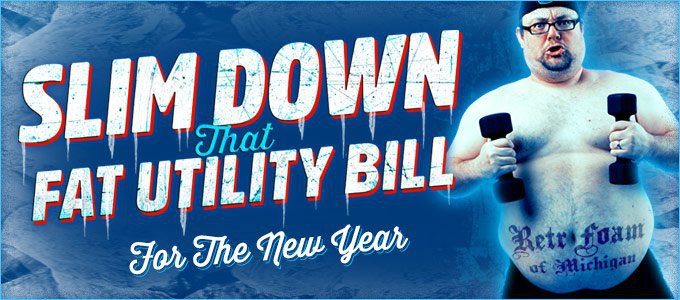 Subscribe
Slim Down that Fat Utility Bill for the New Year!
energy savings | energy bills | News | utility bills
Are your monthly energy bills out of shape?
Getting fatter and eating up your budget?
If so, your house is literally leaking money each time you write the check for your monthly energy bills.
Since the new year is a time when many people commit to losing weight, what if we committed the same theory to slim down our fat monthly utility bills? What would a 20-50% savings off your monthly energy bills mean to your family?
Here are the steps needed to slim down your fat utility bill in 2016:
1. Uncover the root causes of your fat utility bill
Consuming too many calories and a lack of physical activity can lead to an unhealthy body. In a similar way, air leaking from your home can lead to your furnace working overtime, causing an unhealthy utility bill.
To slim down your utility bill, it is key to determine where air is escaping your home, whether it be through the attic, walls, foundation or other areas.
2. Create a plan and take action
A personal trainer or nutritionist will help create a plan and keep you motivated on your health journey. In the same way, an expert insulation contractor can help you to understand the root cause of your air leakage, as well as determine the best plan of attack and action steps to seal up your home - and energy savings.
After reviewing the construction and design of your home, along with reviewing the current insulation in your attic, walls, and foundation, an insulation expert can determine any areas of your home that aren't sealed up properly, and the best action plan. In many cases, foam insulation is a great solution to air seal your home.
3. Results
If you put in the work, you will see the results. Similarly, if you take action on a smart plan to air seal your home your energy bills should start to slim down. Results will vary based on your specific situation, but a lower monthly bill means more money for things that actually matter, as well as a more comfortable and energy efficient home!
Today is a great day to start the process of slimming down your fat utility bill.
To get started on your journey, contact us today for a free in-home estimate. We'll be your "personal trainer" and help to come up with a plan to slim down your utility bills, based on our visual evaluation of your home. To take the first step and schedule an in-home estimate, please call our office at 866-900-3626 or fill out the form on this page.
If you are interested in learning more about our process or foam insulation in general, more information can be found at the links below:
How Much does Foam Insulation Cost?