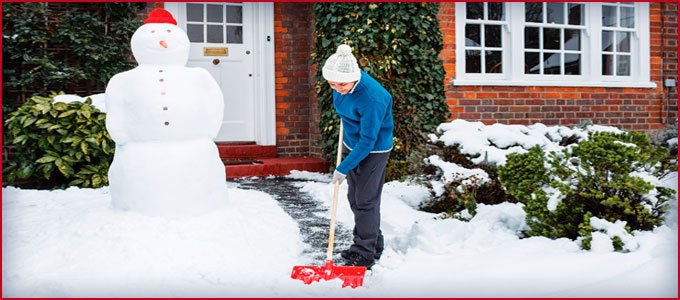 Subscribe
December Home Checklist
december | home checklist | home maintenance | home repair | News | Smart Homeowner Tips
It's cold and snowy and the sun has pretty much disappeared.
But don't think you're getting a pass to hibernate.
December is the chance to prepare well for winter, to enjoy the holidays and kickstart the new year right.
A new season, a new set of responsibilities.
So let it snow and get busy crossing these off your December home to-do list.
Prepare for snow
If you don't have a four-car garage, your snow shovel is likely stored somewhere else in the off season. That's ok, now is the appropriate time to send out a search party. Look for your car scraper as well. If your shovel is lost or damaged, make a trip to the local hardware store and replace it.
While you're there, grab some driveway salt, mix for your snowblower, an extra hat and some gloves. Now you are ready to battle the snow and keep your driveway clear, clear so you can finish your Christmas shopping, of course.
Check emergency devices
The end of one year and the beginning of another, the perfect time to replace batteries in your smoke detector. Check all the detectors in your home and if one doesn't work, part ways, with no hard feelings, and replace it with a new one. Then move on to carbon monoxide detectors, ensuring they also are operating in proper fashion.
Tidy up the guest room
Your favorite aunt, uncle, and second cousin are all scheduled to visit over the holidays, whether you like it or not. Unless you enjoy sharing your bed with people that totally snore, consider opening your guest room to visitors, instead of using it for storage. Replace the sheets. Change the pillow cases. Vacuum the floor. Then Febreze the entire room and you should be good.
Prepare for the holidays - early
It's tempting to delay your holiday preparations a few days until you have a little more time. I mean, you are so busy right now. Don't fall for that common trap. Buy your Christmas tree today. Put up your Christmas decorations tonight. Purchase your Christmas presents tomorrow. Then you can sit back and actually enjoy the holidays with your family, not stress out and panic last second, trying to squeeze in all your tasks.
Make space
Your closets and mud room have been full of summer and fall outdoor gear the past few months. Now it's time to clear space. Bring the raincoats, soccer balls, and swimming gear downstairs. Then fill up the open spaces with your family's winter coats, boots, hats, and gloves. The moment it snows, you and your family can grab your gear and run out the door without scrambling to find your cold-weather gear.
Reflect and review
Finally, think about all the great things that happened in 2016. The fun trips, the challenges you overcame, and the new things you tried. Celebrate those moments and express gratitude. After that, look ahead. Dream. 2017 will be what you make of it. What vacations have you been putting off? Start looking for plane tickets. Tired of your dining room's look? Start budgeting for some renovations. Thinking about starting a business? Invest in some online training courses.
There you have it. With all you accomplished, go hibernate a day or two, not a month. See you next year!